Many of us use smartphones at night, though we are aware of the fact that staring at the small screens for a long time is not good. We also tend to binge watch television even though we are aware that it's not good for our eyes. We also constantly stare at some kind screen without taking a break. Most of us really take our vision for granted.
Nowadays, however, vision problem in America is serious issue. According to statistics, about 3 millions American are suffering from blindness, about 23 millions have low vision, and about 26 millions are visually impaired. The statistics even suggest that the blindness is estimated to double in 2030.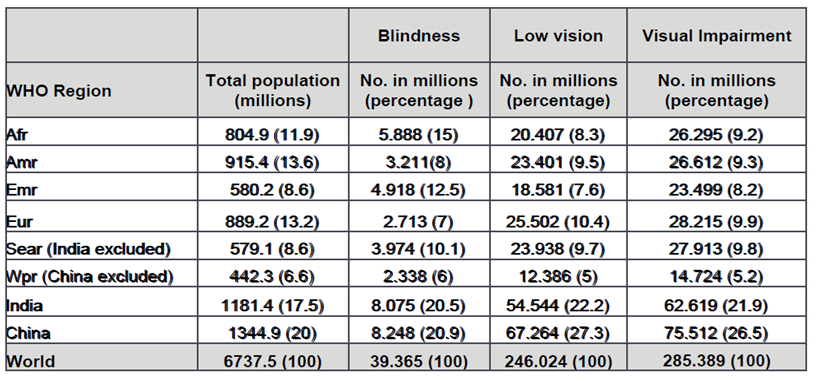 While some problems are not preventable, there are some ways that you can do to protect your vision. Eating well is one of them. According to American Optometric Association, lutein&zeaxanthin, vitamin C, vitamin E, and zinc could reduce the risk certain eye diseases.
What should we do?
Here are the best 5 foods containing those eye-friendly nutrients.
1.Broccoli
Broccoli are a great source of lutein and vitamin C. It is concentrated in the eye retina and is needed for good vision. According to recent research in the Journal of Agricultural and Food Chemistry, raw broccoli provides significantly more beneficial nutrient than cooked. If you prefer it cooked, however, steam it until it's cooked but still crunchy. Just lightly steam broccoli drizzled with an olive oil and eat it alongside a piece of salmon or tuna for an eye health meal.
2. Almond
Almonds are nutrient-dense. If taken in moderation they can help in promoting overall well-being of the body. Especially they contain a lot of vitamin E. A small handful of almonds is good to your eye. I recommend you to bake almond cookies. If you have small amounts of almonds, sugar, salt, and ½ cup whole-wheat pastry flour or all-purpose flour, you can bake it. These delicious cookies could be healthy dessert.
3. Oyster
Oysters are high in zinc. Zinc is an antioxidant that is important for eye and is necessary for immune system. According to WebMD, Zink enables vitamin to create a pigment called melanin, which protects the eye. Oysters can be eaten on the half shell, raw, smoked, boiled, baked, steamed broiled and so on. Butter and salt are often added. How about eating delicious oyster stew for your dinner?
4. Orange Juice
Vitamin C is very important to your eyes. Studies suggest that the steady ingestion of vitamin C may reduce your risk of cataracts and macular degeneration later in life. Drinking around five cups of orange juice offers a full day's supply of vitamin C. Because orange juice is healthy and naturally sweet without any added sugars, it is one of the most popular healthy beverages. As you know, most commercial orange juice is so heavily processed. How about making homemade orange juice for your health?
5. Spinach

Spinach are rich in two antioxidants stored in macula; lutein and zeaxanthin. Lutein and zeaxanthin absorb blue light, which is harmful to the retina. These nutrients also help the eye detect contrast better, so keep an eye on spinach. I recommend you to the healthiest way of cooking spinach. I suggest boiling to free up acids and allow them to leach into boiling water. This brings out a sweeter taste from the spinach. Spinach is in season during spring. Let's make delicious meal by using spinach this upcoming spring!
Sejin Moon
*sources
http://www.sitepoint.com/how-many-users-need-accessible-websites/
https://www.nei.nih.gov/eyedata/blind
http://www.aoa.org/patients-and-public/caring-for-your-vision/diet-and-nutrition?sso=y
http://www.health.harvard.edu/staying-healthy/top-foods-to-help-protect-your-vision
http://www.webmd.com/eye-health/zinc-vision
http://www.cookinglight.com/eating-smart/nutrition-101/foods-for-eyes/spinach-kale-leafy-greens
http://www.eatingwell.com/nutrition_health/nutrition_news_information/which_broccoli_is_better_raw_or_cooked
http://birdsnestfoundation.com/wp-content/uploads/BNF-LOGO-SMALL1.png
0
0
William B. Macaulay
http://birdsnestfoundation.com/wp-content/uploads/BNF-LOGO-SMALL1.png
William B. Macaulay
2015-02-17 20:45:50
2015-02-17 20:45:50
Perfect food for perfect vision